Crickex Cricket Betting: How to Start?
We always value our users' time and know how important it is to them, so we made the registration process on our platform as simple and straightforward as possible. To begin betting online at Crickex Sports and playing for real money, you should first create an account. The instructions below will guide you through the registration process and help you to place your first bet.
To get started, go to the official Crickex website. In the top right corner, you will see the "Sign up" button. Once you've clicked on it, you'll have a registration window where you'll need to create a username and password. Once you have completed this step, you will need to enter your first and last name, phone number, and email address. Your personal account will be considered created once these fields are completed.
After registering and creating an account, you will need to verify it. This is necessary to be able to use Crickex bonuses, withdraw money and generally increase the security of your account. Go to "Personal Info", on the screen you will see "security level – un-verified" and two icons: an envelope and a phone. You can get a verification code through the mail or via SMS to your cell phone. Choose the option that suits you, get the code and enter it.
Then navigate to the "Deposit" section. To be able to bet online and play for real money, you should first make an initial deposit. Choose the most convenient payment method for you from the options provided. The minimum deposit is 200BDT and the maximum is 10,000BDT, except for USDT TRC-20. You can use the site's suggested amount or enter your own.
Go to the "Sports: Cricket" section. A list of scheduled and current matches will appear in the center of the screen. On the left, you can choose the tournament, league, or championship that interests you.
Make a wager. Find the odds next to each match; choose the one that suits you and click on it. The "Bet Slip" window will appear on the right, where you can specify the size of your bet. To view the available betting markets, click on the name of the match to see a list of them. When you've decided on a wager, simply confirm it.
You can follow the game live and not miss a single moment if you bet on an in-play match.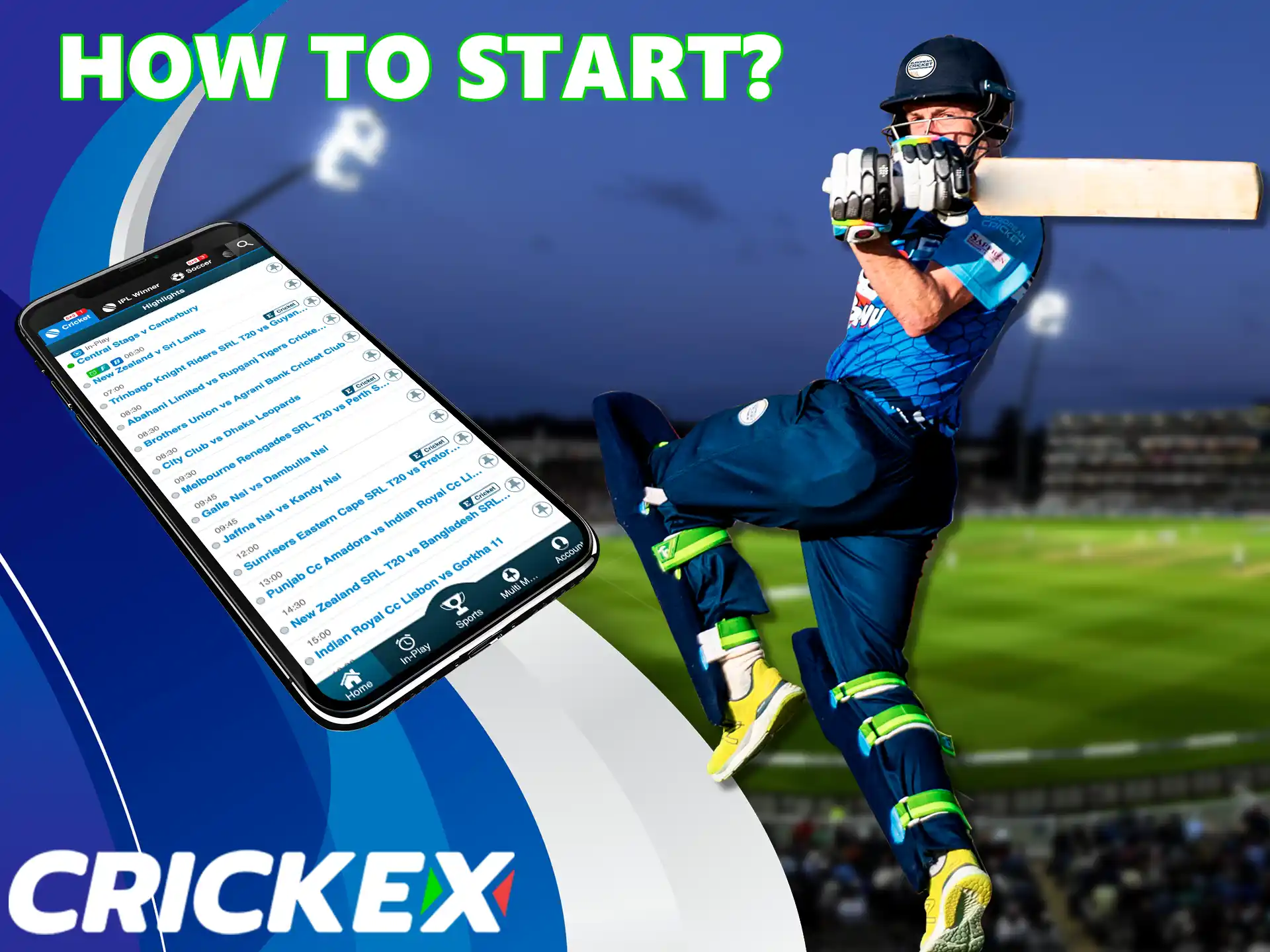 Crickex Cricket App
Mobility and the ability to bet at any time and from any location are important factors for many bettors. That is why having a mobile app makes the Crickex cricket satta website so appealing to users.
Our Crickex app is not only convenient and quick, but it also does not limit you in any way. All of the same functions as on the website are available via the mobile app, including bets, deposits, withdrawals, bonus use, and more. Another appealing feature is that the application is completely free and can be downloaded from our official website.
You can bet on live matches as well as on cricket events using the mobile app, which includes:
ICC World Cricket League Matches;
Indian Premier League;
Test Matches;
One Day Internationals;
Plunket Shield;
Women's premier League;
Legends League Cricket, and many others.
Welcome Bonus for Cricket Betting
As previously stated, Crickex cricket betting site has a generous bonus system in place to ensure that our users have the best betting conditions and can increase their earnings by choosing us.
We provide a variety of bonuses, both personal, such as a 1,000BDT bonus for your birthday, and general to all users. For example, you could enter the Weekly Lucky Draw and try to win a prize – an iPhone 14 Pro. All you have to do is open an account and make a deposit of 1,000BDT. If you are interested in this bonus, you can find more information about how to obtain it on our website under the "Promotions" tab.
We now have a Mega Bonus Contest with a prize pool of 80, 00, 000BDT. This bonus package includes two events: the Weekly Contest Event and the Mega Grand Bonus Contest.
Each week, the Weekly Contest Event will select the top 800 players, who will then be awarded a bonus based on their rank. To participate, you should wager on any sport, including cricket. The bets placed from every Sunday until midnight of next Sunday will be counted towards turnover accumulation. The leader board rankings will be based on your total turnover amount and will be updated daily. You get 1 point for every 1000 Turnovers. Weekly Contest will be held with a prize pool of 30,00,000BDT.
The Mega Grand Bonus Contest will have 500 winners and a prize pool of 50,00,000BDT. The conditions are the same as for the Weekly Contest Event.
You can find more information about all available bonuses and the conditions for receiving them on our website in the "Promotions" section.
FAQ
Is Crickex a good Place to Bet on Cricket?

If you're looking for a trustworthy bookmaker with great betting odds, Crickex is the place to be. We provide excellent bonuses, competitive odds, a wide range of cricket matches and events, live betting, and much more. You can also download our mobile application to bet even faster.
Can I Use the Crickex Mobile App to Bet on Cricket?

Without a doubt! Many bettors have long switched to a mobile app because it is not only convenient, but also allows you to bet whenever and wherever you want. Our mobile app is available on both Android and iOS. Furthermore, the application is free to download from our official website. You can also be confident that it operates without hiccups, displays all of the most recent odds, and offers all of the same features as the website.
Can I Use the Crickex Welcome Bonus to Bet on Cricket?

We offer numerous bonuses to our users that they can use when betting on cricket. The bonuses are constantly updated, so you'll always be able to find one that works for you. Also, don't forget to take advantage of our exclusive bonus, the Mega Bonus Contest.
Are there Many Cricket Betting Markets at Crickex?

Crickex provides its users with a huge number of different betting markets on cricket. Among them you can find such as:
Winner of the match;
Which team wins the coin toss;
Will there be a tie;
Team with top batter;
Team with highest score at 1st dismissal;
Team with top bowler;
1st innings over/under, and many others.
Updated: